Family Fun by David H.
My family has taken many classes at the studio from Angry Birds & Mosaics for the kids to Bead making and Stain Glass myself. With the ever changing classes I am constantly on the website for the newest & greatest classes. Thank you for exposing myself & more importantly my children to Art.
Raku Pottery by Claudia H.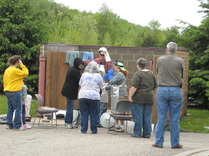 I have taken a number of classes at ThunderWillow with one of my favorites being the raku pottery class. It was great fun to see the colors of my pieces once they were fired out back of the studio. It is wonderful to have a place that allows you the ability to explore all different mediums of art.
Beading 101 by Jenn V.
A perfect place to connect with friends and create something beautiful! We had a group of 15 women doing beading and left with 15 unique and different pieces of jewelry.

Finding my inner artist by Peggy B.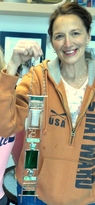 I never thought I was an artist, art wasn't something I was comfortable with I guess. It was what other people were good at-not me. ThunderWillow taught me that art is whatever you feel. Trust yourself enought to find where it takes you. Art is fun, creative, beautiful, enjoyable, tangible..a part of you. Who you are and who you can become. Be brave and find your artist within, like I am. You will find more than you think. It is a wonderful journey!
Lampwork Bead Making by Jean D.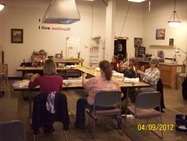 I took this class with a friend and was sure I wouldn't even be able to do it. Wow, was I suprised! Not only was I taught how to do it but I actually made some pretty cool glass beads out of a simple glass rod. I have taken additional classes and love this place. What a neat way to be able to experiment with a variety of things and find a new passion. Thanks ThunderWillow!
Stained Glass by Debra D.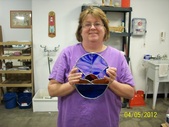 Like many I have taken multiple classes at ThunderWillow, suncatchers, beginning stained glass, stepping stones, mosaic mirrors, obviously I cant get enough! I never thought I was much of an artist but as you can see my first stained glass piece is gorgeous! I have learned so much and have found what a great escape creating can be.
Kids Sand Art by Anna V.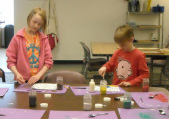 I enjoyed the sand art class because I have never used sand to make a painting before. It was a lot of fun!

Stained Glass with Whimsy by Sue B.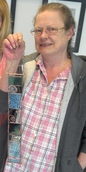 I took my first class several weeks ago and loved it! It didn't take long to see the results of your product. The designs are endless and the instructor did a great job of ensuring everyone understood the techniques so we could go further. I already purchased everything I need to do stained glass at home but come in regularily for tips and to use some of the studio equipment. I have signed up for a number of classes and cant wait to explore more!
Portriat Basics by Tom L.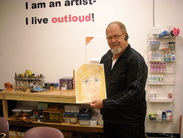 I was one of those many folks that thought he couldn't draw a straight line without a ruler but thought I'd like to take a Portrait class offered at Thunderwillow Community Arts (what was I thinking??). I expected to just have fun learning a little about how "other people" actually took a picture in the mind and got it to their hands and on paper. Thankfully, we started with the basics and, within two hours….whaalaa, I actually saw something that appeared to be a PERSON on the paper. I was the most surprised person in the room. Thanks Thunderwillow and my instructor Sam for showing me that ANYONE can find a creative side, you just have to try it. I'm ready for another class….lookout Sam, you've created a monster!
Silk Scarf Making by Barb Q.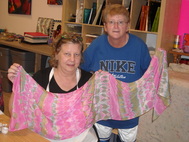 I have never had much interest in creating art, I just liked to buy it. My sister convinced me to take the silk scarf making class with her and I was simply amazed at how relaxing and fun creating could be. I love the piece I made and have to admit...I will be back for more.