SIGN UP FOR CLASSES: Call the studio to sign up or register on line to reserve your place in your desired class. Class sizes are from 6-10 persons only!
Students must register at least 24 hours before class time to insure the instructor can be notified and prepare.

Individual Sessions
Looking for something to do today? Give us a call and we can help you come up with a project to do for a couple of hours. There are a variety of activities that can be scheduled anytime!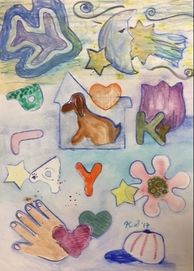 New Class! Just Added!
Cookie Cutter Watercolor with Katie
Let your imagination go wild and use cookie cutters to have fun with watercolor painting! Pick out your favorite things and make up your own designs. Our instructor, Katie, will help you with all of the steps.The cost of this class is $24, which includes all materials.
April 28th, 3p - 5p (Friday)
May 25th, 3p - 5p (Thursday)


---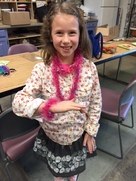 Crocheted Beaded Bracelet and Necklace
Learn the basics of crocheting and make beaded bracelet and necklace to wear right away! Add a fur yarn for extra pizazz! You will learn to string beads onto two strands of yarn, beginning crochet stitches and the finishing method. The cost of this class is $15. All materials are included. These are FUN!


​ April 29th, 12p -1p (Saturday)
---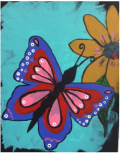 Acrylic Open Painting

Kiddos may pick from a variety of image ideas or paint their own. All materials are included in this $20 class. Sign up for some fun painting time!




​ May 5th, 3p - 5p (Friday)
---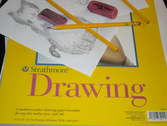 Drawing Series with Donna
Learn to draw for ages 7 and up.
This class teaches the basics of drawing. Each week students will learn and practice specific techniques and we will continue to build on these week by week. Class size is limited to 6 students.. Four 1 hour sessions - $80 plus a $5 materials fee.

May 6th, 13th, 20th & 27th, 10a - 11a (Saturdays)
---
Crushed Fused Glass Hangings

Hey Kids..Lets have some fun, get destructive and crush some glass! You will get to pick your colors of glass, hammer it to pieces and make a one of a kind fused glass hanging. Pieces will need to be fired in our kiln before you can pick them up. Great for ages 7 and up. Cost of this class is $22, all material included. (Don't worry Mom and Dad-its not as dangerous as it sounds-but it sure is fun!

May 11th, 3p - 5p (Thursday)
---
Jewelry Beading for Kids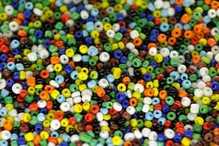 In this class you will learn the very basics of beading. We will have a variety of beads and closures to make a double strand bracelet or a necklace.The cost of this class is $20 and the materials are included for either one double strand bracelet or a necklace. Ages 6 and up.



​ May 12th, 3p - 5p (Friday)
---
Funny Face Mugs for 6 Yr old and up!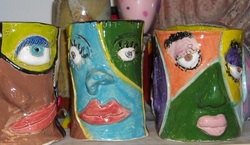 Create your own unique Funny Face Mug. For you or make one for that special someone on your Christmas list. The first day students will roll out clay slabs and build their mug. We will have fun shaping eyes, noses, mouths, ears and anything else you desire to attach with clay slip to the mugs. The next week after the mugs are fired, you will come back and and add color with glaze. This class is $28 and all materials are included. Additional mugs can be made time permitting for $10 each.
May 13th & 20th, 1p - 3p (Saturdays)- 2 Sessions
---
Kids' Mosaics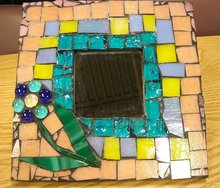 Students will learn to make mosaics. A great gift for mom, or keep it for you! You can choose from mirrors, flower pots, wooden cut outs of fish, stars, hearts or flowers. You will design your pattern, pick out your glass (you can also add little treasures you bring from home) and begin creating your masterpiece! For students 4 years and up.




​Mirrors - $24, Flower Pots $20 and Cut outs are $22. You will pay for the difference on the day of your class.

May 19th, 2p - 4p (Friday)


---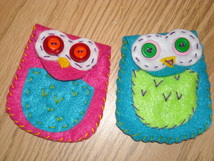 Beginning Stitchery
Make an adorable felt owl coin purse while learning a bit about hand sewing. We will use a straight stitch, a whip stitch and learn to sew on buttons. Patterns and materials are provided and you will cut out, assemble and sew your pieces together to create this useful little piece of art! Ages 7 and up. $19.00 1 to 1.5 hours.




​ May 20th, 3p - 5p (Saturday)
---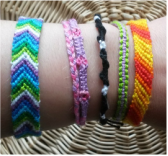 Friendship Bracelets with Katie
​Learn how to make these super fun, summery friendship bracelets. Katie will teach many different styles, and many techniques, from easy to advanced. Left to right: The Chevron and flower macrame bracelets are more advanced bracelet making. The spiral friendship braids bracelet and purple and green bracelet are super simple beginning projects. Lastly, the diagonal striped braids bracelet is a good intermediate project. Complete 2-3 bracelets in class. Bring to class a small pillow to pin the bracelet to while working the pattern. The cost of this class is $24, which includes materials.
​ May 23rd, 1p - 3p (Tuesday)
---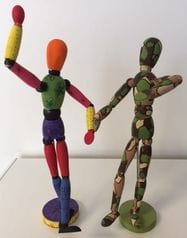 Paint A Person
Paint a person: Come in and add your personal touch to a drawing mannequin. This becomes a great reference tool for drawing people. The mannequin shows proportion and posture. We will use acrylic paint and markers to complete our 'person'. Class is 1.5 hours long and all materials are included. $22




​ May 24th, 3p - 4:30p (Wednesday)
---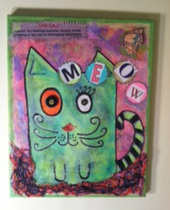 Mixed Media Project
Kids come in and create a one of a kind mixed media project. We will be using paint, stamps, markers, papers, book pages and more to create an unique piece of art on canvas board. Come in prepared to 'color outside the lines"!. $22 and all material are included. If you have some special small mementos that you would like to include, bring them along!




​ June 3rd, 1p - 3p (Saturday)
---
Pottery for kids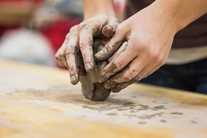 Kids..lets get our hands dirty! Learn to manipulate clay to make small dishes or animal figurines. Then you can paint them to make them fun and interesting. Cost of this 2 part class is $26, all materials included. Ages 5 and up.




June 3rd & 10th, 3p - 5p (Saturdays)
---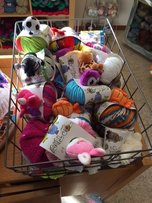 Knitting just for Kids with Diane
Knitting is for all ages! This is a two part beginning knitting class just for kids 9 and up.The basics will be taught and built upon, along with lots of laughs and fun!
Materials: One skein of cotton yarn and size 9 knitting needles. All materials are available for purchase in the Yarn Nook at ThunderWillow. We ask that you please purchase your yarn from us. The cost of this two-part class is $24. The patterns are included at no charge. Ages 7 and up.

​ June 9th & 16th, 1p - 3p (Fridays)
---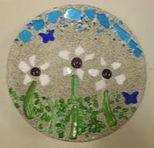 Kids Stepping Stone
How about making some fun artwork for your garden? Create a special concrete stepping stone and decorate it any way you like! We have glass pieces and circles for you to make your own design.You can bring your own treasures to place in the concrete, too. Have fun!
The cost of this class is $24, including materials.

June 13th, 1p - 3p (Tuesday)
---
Zentangle your name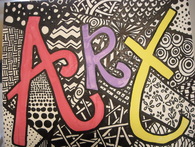 Paint you name on a canvas board and then make it unique with Zentangle. Great for your bedroom wall or door. Cost of this class is $20, all materials included. Great for ages 7 and up.


June 17th, 12:30p - 2:30p (Saturday)

---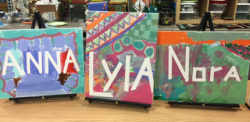 Paint "U"!
Fill the canvas with colors and patterns. Have fun painting anything you like and watch your name or special word emerge. How does this happen? Come and experience the magic of this painting class and create one for yourself. Ages 6+ The cost of this class is $24, which includes all materials.
June 24th, 11a - 1p (Saturday)
---
Ceramic Painting...Anytime for Everyone!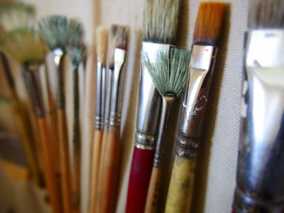 Come in anytime! Paint and create your own ceramic masterpiece. Prices are all inclusive and include ceramic piece of your choice, paint, glaze and kiln firing. Great to do with a friend, child, parent, group or on your own.
Items to choose from on site include:





Piggy banks $18 Car Bank $18
Large plates $22 Kitty Bank $16
Jumbo latte/soup mug $18 Wave Vase $20
Decorative Vases $20 Contemporary Bud Vase $12
Heart Shaped Plaque $18 Asian Rice Bowl $12
Pottery Mug $18 Square Tiles $14
Puppy Bank $18 Name Plaque $18
Peace Box w/lid $18
Coffee Mug $15
---
CLASSES BELOW ARE AVAILABLE BY APPOINTMENT AND FOR PARTIES-JUST GIVE US A CALL
Sand Painting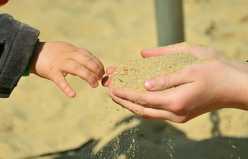 Play in the sand! You will learn how to make pretty paintings with colored sands. Great for kids 4 and up. The class will last 1 1/2 hours and all materials will be provided. Wear old clothes, this could get messy! $18.


---
Clay Bead Jewelry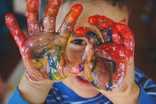 In this 1.5 hour class, your child will participate in making the clay, forming beads, painting them with acrylic paints and stringing their own designed bracelet and necklace. This class is geared for children 4-7 years old. Cost of class is $20, this includes all materials.


---
Batik Arts for Kids

Come create your own batik fabric painting! Batiks turn out beautifully, wonderful for framing or gifts. Class is in two sessions to allow for drying in between. $20 total for two sessions, all materials included! Ages 6 and up.
​

---
Cancellation Policy
Cancellations must be made prior to 24 hours before scheduled class to receive credit towards another class (no cash refunds). Cancellations less than 24 hours will result in forfeiture of fees.

Images are examples of what can be created.